Shop on Appointment via Bookings!
Login
Log in if you have an account
Register
By creating an account with our store, you will be able to move through the checkout process faster, store multiple addresses, view and track your orders in your account, and more.
Create an account
About us
Why I've started Store Du Nord
Having worked for various retailers and brands for over two decades, I felt it was time to develop a concept that would fit my own views on specialty menswear and create a platform that could showcase artisanal brands alongside established, contemporary brands. 
Years ago, I would frequently write blogs on independent denim & workwear makers. The type of people that you vaguely heard about but you don't actually know how their stuff looks in real life.
I always wondered why these guys and gals never got picked up by a couple of niche retailers, especially here in The Netherlands.
Much of the retail world is dominated by the well-known, commercially driven fashion brands that don't always have the right set of ingredients to create extremely well-made garments.
After all the years I spent in the fashion industry, I got tired of the typical brands and "it's all about the margins" attitude.
So I thought to myself, go do it yourself. Do better. Make a change. Show the other side of the industry.
How I go about business
Balancing everything that I value in retail is a challenge that requires a lot of creativity, focus and patience. 
Especially during the buying of collections for the upcoming seasons, it is extremely challenging to not get lost in desire and greed. Imagine yourself as a kid in a candy shop: You want to try and taste everything, and it is never enough. You want more and more, and if you don't get what you want you end up being irritated.
Well, welcome to my world.
Over time, I've learned to keep my objectives clear and focus my energy on the values that mean the most, being:
Sourcing brands that have a similar vision on retail;
Meeting the maker and/or the people behind the brand;
Transparency in production and construction;
Sustainability in every part of the chain;
Organic materials, or functional materials if it contains synthetic fibres;
Quality over quantity.
Setting these conditions for Store Du Nord and the brands I work with gives a solid base for everything I do, but it is not always the easy route.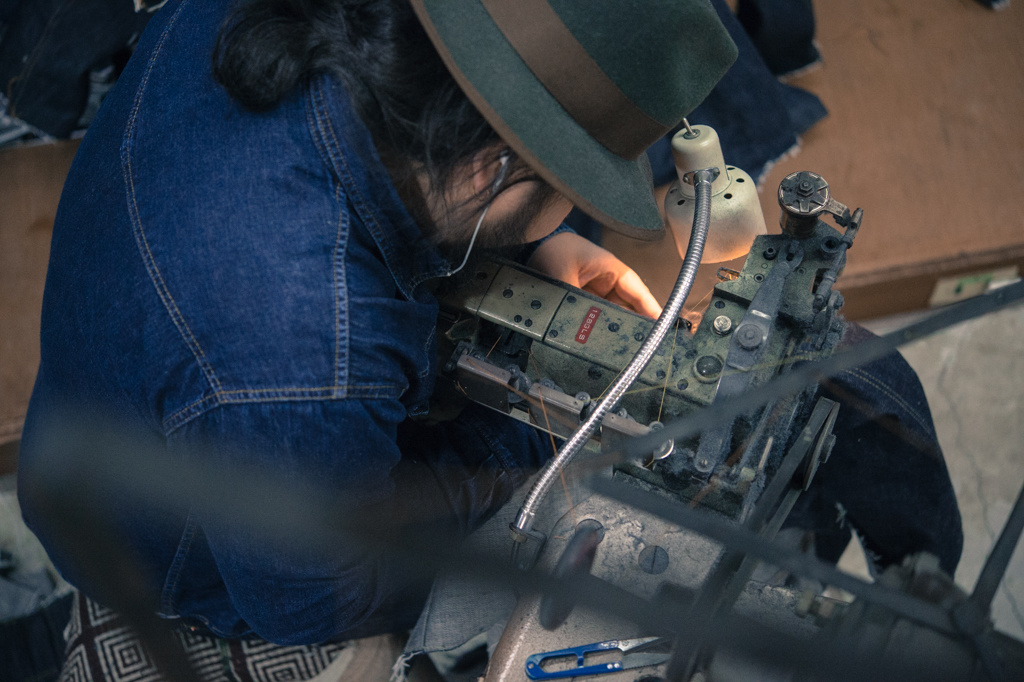 Unfortunately many brands claim to tick most of the boxes but when I research it more deeply, they hardly meet any of those conditions. This has more than once resulted in cancelling partnerships with brands or rejecting brands that are high in demand.
I believe we need to make a change together, for a better planet now and for future generations. As global awareness regarding the climate is growing and brands start making an increased effort to do better, I feel obliged to take an active part in this development and to help consumers understand more about what makes a garment sustainable and as pure as possible.
Luckily, many of the brands I work with at Store Du Nord actually do share that mindset and often go beyond. Brands such as Norwegian Rain, Motiv Mfg, La Paz, Harley of Scotland and the various raw denim brands make an extreme effort to not only make a more sustainable garment but also push boundaries to develop innovative production methods that have the well-being of our planet as a main priority. Developments such as non-toxic, circular production cycles or local organic sheep farms and milling are a few of the examples that these brands focus on, inspiring bigger brands to follow their steps.
This is what I want you to experience
Stepping into the world of Store Du Nord is not only discovering well curated collections. It is an experience that I introduce, built around storytelling about the beautiful brands and people I work with. Contemporary garments that will become a staple in your wardrobe, creating a sense of enjoyment and excitement each time you wear it.
Welcome to the world of Store Du Nord.
Inspiring regards,
Jeroen