Shop on Appointment via Bookings!
Login
Log in if you have an account
Register
By creating an account with our store, you will be able to move through the checkout process faster, store multiple addresses, view and track your orders in your account, and more.
Create an account
Working from home
26 Mar 2020
Working from home, most of us are having to adapt to this new reality with the current Covid19 outbreak that keeps the world in a lockdown.
Finding your way in these hectic times can be challenging, but as we all know... Challenges exist to conquer them and, perhaps, we can offer you a way to survive this and make you feel good at the same time.
Maybe your an expat who recently moved to The Netherlands, still adapting to local culture and life here. Or you're a businessman who's currently stuck here but you're able to work remote. No matter what your situation and story is right now, you will get through this and you will have a new perspective on many things.
I would like to offer you a short guide on how to make it through the day because here at Store Du Nord, we focus on the full experience for everyone so why not make it beyond quality menswear?
The early bird...
Yes, yes... we know... The early bid catches the worm. Unfortunately, not all of us are alive and kicking at 6am. And you don't have to be.
Now, when working from home, it's ideal to catch an hour or so extra rest before you kickstart your day. Many of us commute daily, pushing through in jam-packed trains and trams or standing still in a traffic jam that already started around the time your alarm went off.
People always think the worst of those who start a bit later, but why? One is not less productive when he or she starts at 9:15 instead of 8:30 or whatever time. It is about the quality you deliver and be honest, how much time do people spend at the coffee machine with casual chitchat?
So let's start the morning off right. Get a bit more rest if you need it, or get a head start if you enjoy it. Make sure you enjoy your breakfast, give yourself a proper cleansing and get dressed for work.
"Get dressed? I work at home..." Yes, I know. I also know it is vital to dress properly to get the right energy and discipline going because working from home isn't just a walk in the ballpark.
Comfort & Class at home
Many men don't make enough of an effort to dress properly, whether it's for work, a special occasion or just for a walk outside. Which is a shame because people in general feel better and more positive when they look good, and nothing more easy than having a wardrobe that makes you feel good.
Now is your chance to start resetting your wardrobe, bring old scruffy clothes to the Salvation Army and invest in contemporary quality pieces! 
When working at home, it's important that you keep your daily routine going and that you're getting dressed as if going to the office. Why change this just because your laptop is now stuck to your dinner table?
Put on a proper shirt, good fitting pants and some underwear without stains! You'll look the part, believe me!
The perfect shirt
Not many men enjoy ironing their shirts. Most women who do it for their men, praise them because they don't enjoy it too much either.
That's why there's something like a non-iron shirt. No, this doesn't mean you aren't allowed to iron it. It means you don't necessarily have to iron it, because the quality of the shirt makes it wrinkle free.
Yeah, amazing, I know.
At Store Du Nord we offer a large selection of these kind of shirts by shirt specialist Olymp Signature. These shirts are made from Egyptian cotton, which is a long-staple fiber that gives the fabric a very soft feel and makes it wrinkle free. Ideal shirts to wear, high comfort and luxurious details such as mother-of-pearl buttons and a swinging cuff.
A well-made, quality shirt says a lot about a man. It tells you have a refined taste, take good care of your appearance and it shows confidence.
Shop the full shirt collection HERE!
The right pants for you
If there is one garment that can be truly challenging, it's a trouser. One of the most visual pieces a man can wear yet very often, men choose the wrong type of fit and style for their body type and appearance.
The easiest way to make a selection in fits is, is to narrow it down to three styles. Now, how to go about?
If you are a guy with a skinny or slim posture, like myself, you don't want to wear a skin-tight fit or a wide fit. Some guys wear jeans or trousers that are way too skinny, truly a second skin. This doesn't compliment any body type in general, and specifically not when you have skinny legs. Wearing a too wide fit has the wrong effect as well, as it flaps around your legs like balloon pants.
When skinny or slim, choose a slim fit pair of pants. These are complimentary in the style, make you look smart and give comfort when wearing it.
For men who have thick(er) legs, either upper leg or heavy calfs, you will often be best off with a regular fit or tapered fit. A regular fit is a straight cut both upper and lower leg and sits well for most men. The tapered fit styles have a regular upper leg and get more narrow from the knee down, which could sometimes be an issue for men with strong calfs. 
These fits are widely available in both jeans and more formal trousers at Store Du Nord, by brands such as Lee Jeans, Japan Blue, Momotaro, Companion Denim and Strellson.
Now, what matters as well is the material you enjoy wearing and what is most suitable for your type of work. If you have a more informal setting at the office, you'd be well off with a proper pair of jeans or cotton trousers. However, if your work is more formal and they appreciate a suit or at least clean cut trousers in wool then make sure you wear something that is both appropriate as well as comfortable.
The nice thing about wool and/or cotton trousers is that they always look smart, go well with a shirt and jacket and can be worn for various occasions. Most trousers nowadays even go well with crispy clean sneakers instead of classic shoes.
To find a selection in formal attire, please click HERE!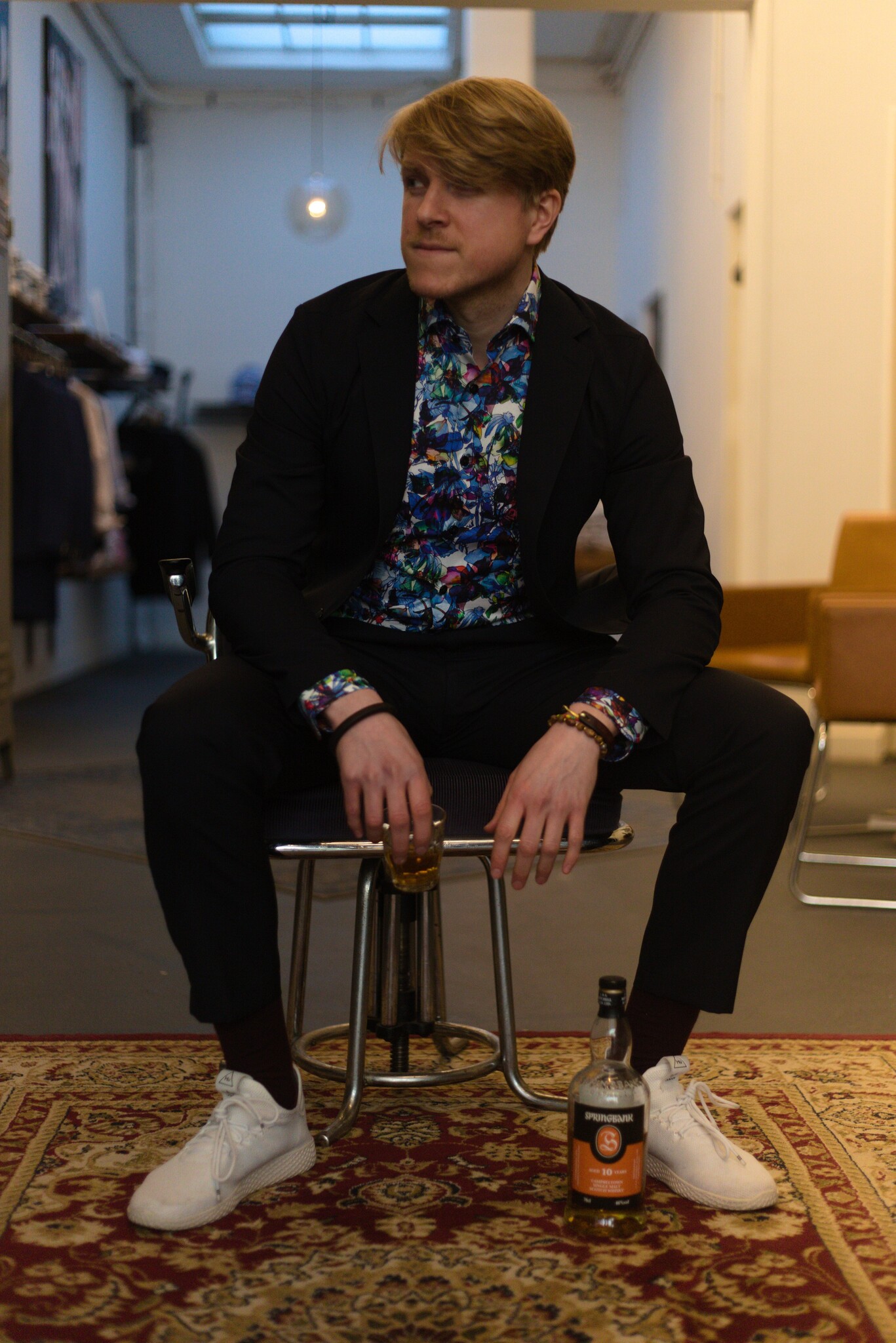 Comfy undies
Those who enjoy reading the novels by Charles Bukowski probably recall he often wore worn-through cotton briefs with shit stains. Trust me, you don't want to go down that road if you want to keep your image on point.
What will be the better option, is proper underwear made from bamboo fabric.
Bamboo is known for its silky-soft feel, it's more hygienic than regular cotton as it's anti-bacterial (not a bad thing during a pandemic), and it has thermal qualities.
At Store Du Nord we offer a wide selection of key essentials in underwear in bamboo materials, including T-shirts in v-neck and crewneck and a variety of colours in boxershorts.
Make sure you feel at your most comfortable when working from home!
Leave a comment