Shop on Appointment via Bookings!
Login
Log in if you have an account
Register
By creating an account with our store, you will be able to move through the checkout process faster, store multiple addresses, view and track your orders in your account, and more.
Create an account
Norwegian Rain, conceptual elegance.
01 Jul 2020
Dreams do come true.
I can't really remember when I first heard about Norwegian Rain and their founders, Alexander Helle and T-Michael. It must have been on social media, scrolling about as we all do nowadays, and seeing photos of them and the typical, elegant way they carry themselves during tradeshows such as the Pitti Uomo, the infamous biannual menswear show in Florence, Italy.
These two are hard to miss, as they truly stand out and dress in such a refined way that heads are turned, but let's not get carried away now.
Alexander Helle and T-Michael, accompanied by wholesale director Wes Swolfs, are the innovative, forward-thinking founders and creators of premium outerwear brand Norwegian Rain. Located in the city of Bergen, which has the dubious fame of being the wettest city in Europe, they have slowly but surely made an everlasting mark on the fashion industry in terms of fabric development, design, energy and philosophy.
If one thing was clear to me when I was ready to start with Store Du Nord, it was the fact that I had to do everything I could to get a foot in the door with Norwegian Rain...
Vision, not volume
I reached out by email to get in touch with Wes and it took a while before I got a reply, so I actually thought I had zero chances to even discuss my concept and any options. As often is the case, I was wrong and I eventually got a call from Wes and he immediately mentioned they were open for a new retail partner in The Netherlands.
The feeling of joy and gratitude I was experiencing at that specific moment is hard to catch in a sentence, so I won't. Let's just say that I was ecstatic.
During my talk with Wes I felt that much of my vision for Store Du Nord was in line with how Norwegian Rain has their philosophy, values and ethics. For me this was a key indicator that a sustainable partnership could be in the cards, and I haven't been disappointed ever since.
Where much of my worries were in any potential order volumes, Wes was quick to reassure me that there would be none of those worries. Norwegian Rain was more than willing to build step by step and understand that my store, like their brand, grows best with care, attention and passion.
It was this shared vision on how to treat each other with respect and understanding that fully confirmed for me that working with Norwegian Rain would be like a dream come true.
Welcome to the family
Fast-forward to being open with the store, carrying Norwegian Rain in the autumn of 2019 and preparing to visit the Paris showroom to finally meet everyone in person.
Don't mock me for this but... I felt like I was in a Star Wars movie and the guys from Norwegian Rain were floating about like Jedi warriors.
Being in their beautiful showroom/store in a hidden alley somewhere in Paris already gave such a special feeling to this visit, but the most remarkable thing was that all of them greeted with me with "Welcome to the family". The mutual understanding and respect was very present and speaking to Alexander and T-Michael was very refreshing as they did not focus on the business side of things but were genuinely interested in knowing who I was, discussing how they envision their brand and spoke about how they experience life in and out of the business.
Trust me when I say that that is very fresh approach to fashion compared to most brands and makers...
Yaruza no ame
Yaruza no ame can be described as a beautiful expression that refers to rain that prevents someone from going home. A person you wish would stay longer, like a loved one or a guest. This Japanese philosophy portrays the very strong connection Norwegian Rain holds with Japan, which is evident in their Japanese fabrics and overall presence in Japan.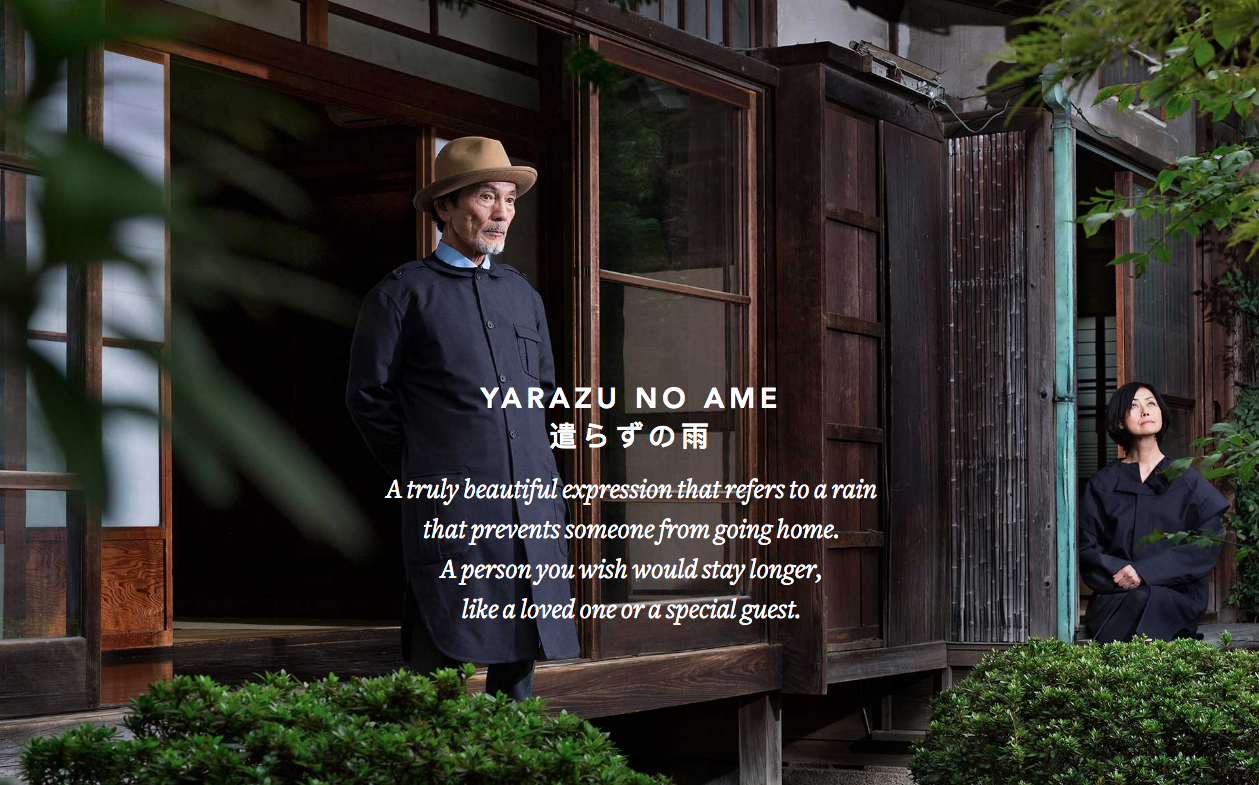 One of the reasons why this expression aligns so well with Norwegian Rain, has to do with the fact that the whole concept of Norwegian Rain is rooted in making you enjoy walking in the rain. When it rains, it pours and in Bergen this certainly is the case. Experiencing rain showers 2 out of 3 days in general, those who live in Bergen certainly should not be envied. So why not make it more fun? Just like you did when you were young, playing around and jumping in puddles.
My love for Norwegian Rain comes from their approach to conceptual tailoring without compromising in functionality, quality and elegance. The level of Japanese fabrics they use are beyond any I've ever seen, resulting in a shell that is waterproof up to 20.000mm but still windproof and breathable. Silhouettes that blend the world of tailoring with various aspects of hardcore outerwear, giving you a type of coat that can both be worn formal or informal no matter your own, personal style.
I dare to say that Norwegian Rain is the best outerwear brand in the world, especially if you look at the mix of elegance, function and innovation. I can't think of many brands that even come close to what Alexander Helle and T-Michael do and I'm pretty sure the Norwegian Rain crew is some of the finest of its sort in this typical industry called fashion.
A sense of pride, gratitude and joy overwhelms me every single time I speak about Norwegian Rain, a partnership I hope to keep for a very long time.
So here's a digital salut to my friends Wes, Alexander and T-Michael!
Leave a comment